Mission and vision
Mission and vision
The company was established to perform two obligatory public utility services, which clearly sets the framework of our mission. We are a team providing clean drinking water to the inhabitants of the city of Ljubljana and its surroundings and ensuring waste water drainage and treatment.
We are a team with a long tradition, which is a good basis for us to become even better by gaining knowledge, experience and wisdom to be able to offer more to the users and make an important contribution to a better tomorrow for us all.
Therefore, our vision is to become "the LEADING regional company in the field of integrated, sustainable, modern, good-quality and development-oriented management of the most important natural resource – WATER". We will achieve this because we are a team that wants it, is able to do it and knows how to do it!
Our strategic quality goals to realise this vision are the following:
Provision of adequate amounts of good quality drinking water
Renovation of the water supply network, facilities and devices
Renovation of the sewage network, facilities and devices
Construction of permanent measurement points in the water supply network
Real-time management of the water supply system
Expansion of the sewage system
Drainage and treatment of waste water in the area of the Ljubljansko polje aquifer, divided into three independent stages:
Stage 1: Upgrading of the municipal waste water drainage system in the municipalities of Medvode and Vodice, and construction of a linking channel in the City Municipality of Ljubljana
Stage 2:  Construction of the third phase of the Central Treatment Plant of Ljubljana
Stage 3: Expansion of the public sewage system in those agglomerations of the City Municipality of Ljubljana exceeding 2,000 PE
Drainage and treatment of waste water in the river basin of the Ljubljanica – Ljubljansko barje Landscape Park
A research&development- and education-oriented and learning company
A user-friendly company
Together we can do more!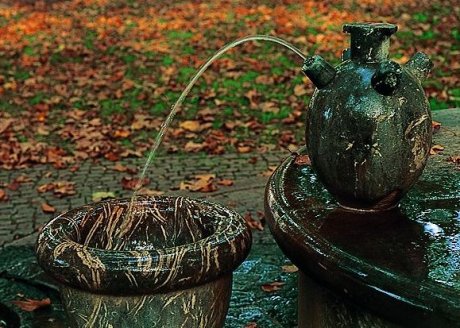 Fountain at Zvezda, Boris Kobe, Kongresni trg, 1941